Shenzhen, China - September 17, 2021 - Medical and Biological Laboratories Co., Ltd. (President & CEO: Kimimasa Yamada, "MBL"), a JSR Life Sciences Company, announced that its subsidiary MBL Shenzhen Biotech Co., Ltd. ("MBLS") has been established in full-scale operation as a new R&D and manufacturing site for in vitro diagnostic products and services in China.
MBL has been manufacturing and selling raw materials for diagnostic reagents in the rapidly growing Chinese market. Through more flexible and quick services newly added by operation of MBLS, we aim to increase the satisfaction of customers, including not only diagnostic reagent manufacturers but also pharmaceutical manufacturers, in China.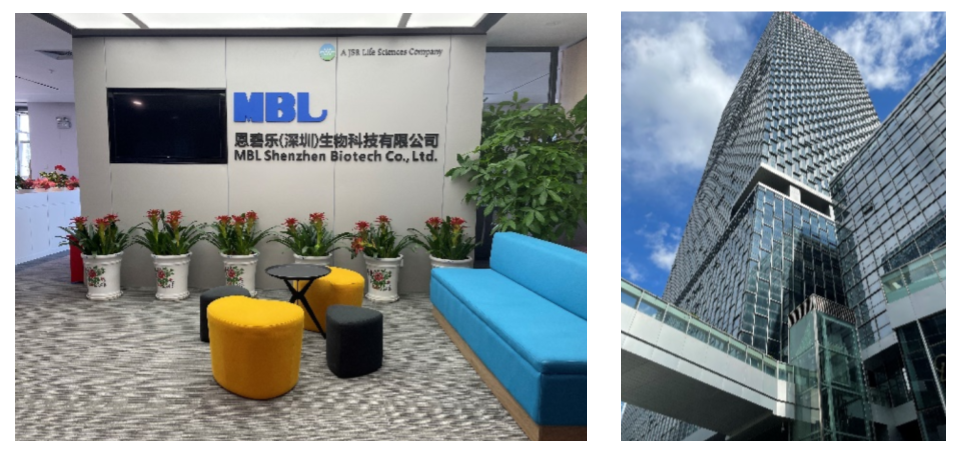 Profile
(1) Company name MBL Shenzhen Biotech Co., Ltd
(2) President Tamao KAKU
(3) Open September 17, 2021 (Registration: December, 2020)
(4) Address Wisdom Homeland Phase2 Block 3A Building 12 Block, Baolong Residential District, Baohe Avenue No. 76, Longgang Shenzhen Guangdong 518000 China
(5) Footprint 4,000m2 (Office, R&D: 2,000m2, Production: 2,000m2)
(6) Business Development, production, and sales of antigens and antibodies as IVD raw materials, IVD intermediates and IVD reagents.